Kicking and Screaming

Director: Noah Baumbach
Writers: Noah Baumbach (Screenplay), Noah Baumbach and Oliver Berkman (Story)
Starring: Josh Hamilton, Olivia d'Abo, Christopher Eigman, Paker Posey, Eric Stoltz
Reviewed By: Sean Daly
Overcoming Racism. Triumphing over Tyranny.  Surviving the Holocaust. All powerful themes of Nineties movies of which I have no direct personal experience.  But Over Privileged White Person Graduating from College Armed with a Wealth of Useless Knowledge and No Direction? Now there's a Nineties movie theme that resonates with me.  If you had the same early-Twenties experience, there is an excellent chance writer/director Noah Baumbach's witty 1995 debut Kicking and Screaming will resonate with you, as well.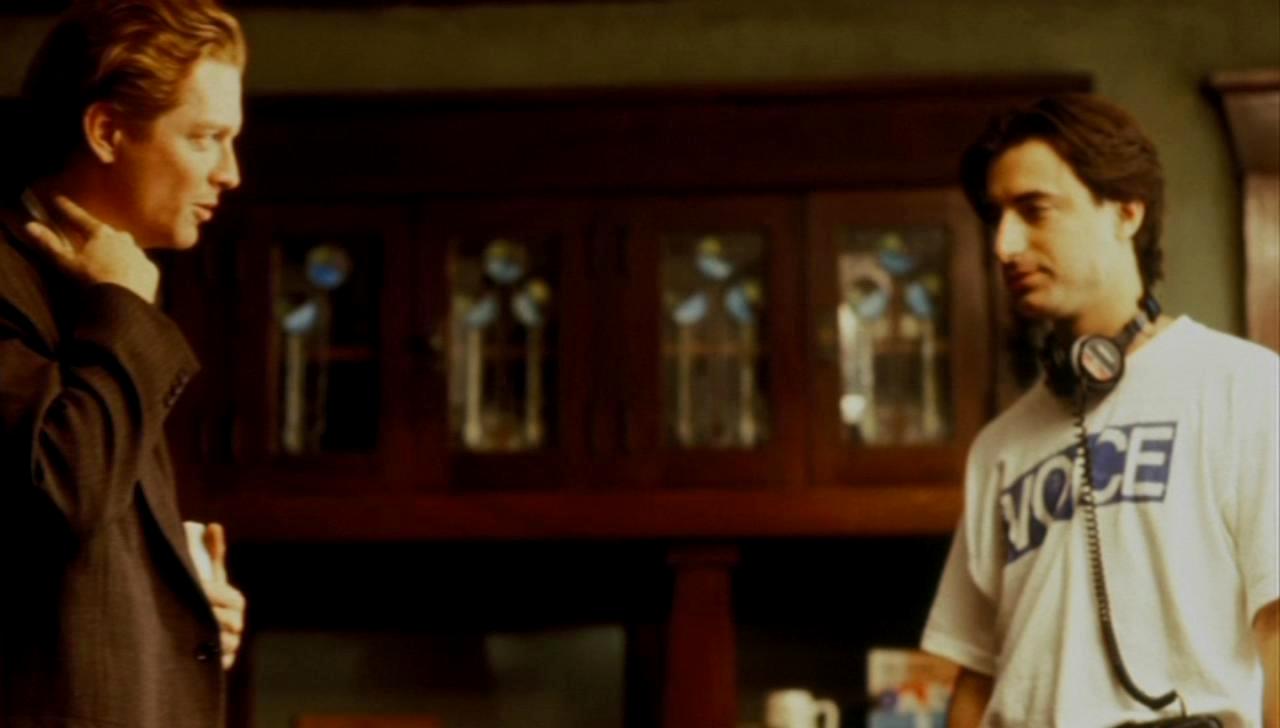 Similar to the dialogue heavy/plot-light Before Sunrise (also released in 1995), Kicking and Screaming seems to have been green-lit more due to the runaway success of television's Seinfeld, a show famously about nothing, than that of another movie.  Despite the lack of action, Kicking and Screaming is hardly about nothing but, rather, a generation of people well-provided for by those who raised them but also conditioned by the selfish actions of those same people to always expect the worst and behave accordingly.
The minimal plot revolves around wannabe writer Grover (Josh Hamilton) and his three friends: surly Max (Chris Eigman), helpless Otis (Carlos Jacott) and dim-witted Skippy (Jason Wiles).  The group takes the boldness-free step of remaining near the college from which they recently graduated for no discernible reason beyond delaying their lives.  They spend most of their time "discussing the least important things", as noted by Grover's astute girlfriend, Jane (Olivia d'Abo of Wonder Years fame).  Their collective malaise is summed up perfectly when Max hilariously places a sign over a pile of broken glass on the floor to warn others instead of simply sweeping the mess up.  Their sheer apathy proves highly entertaining, punctuated by sharp dialogue and recognizably cringe-worthy situations.
The heart of the film is introduced in the first scene during the guys' college graduation party, as Grover learns Jane has decided to attend graduate school in Prague—with or without him.  Grover, who is shaken, masks his hurt by pulling out a Kafka reference to warn his girlfriend she'll "come back a bug." Jane, in turn, refers to him as a "foul-weather friend" who is only happy when she is miserable.  Rather than discuss the clear issue head on—Grover is devastated she'd go without him while Jane is crushed he doesn't want to go with her—the couple laughably bickers over her decision to quit smoking before silence ensues.  Their rampant sarcasm in lieu of emotional honesty represents a sharp observation of human nature on Baumbach's part, both in regards to these two characters and people of their generation.  Grover and Jane's story proceeds to play out over flashbacks sprinkled throughout the movie, during which the viewer learns they are seemingly made for another in a surprisingly positive way.  Despite this, Grover cannot bring himself to risk the intensity of disappointment—or happiness—by going to Prague, instead striving to forget Jane through a series of forgettable hookups with freshman girls.  Whether or not he can ultimately man-up constitutes the suspense of the film.
The other three guys also continue to flounder.  For Max, this means spending his time doing crossword puzzles and verbally browbeating Skippy, who takes a job at a video store and forms a dysfunctional book club with thirty-something professional student Chet (Eric Stoltz).  Meanwhile, the pathetic Skippy clings to his undergraduate girlfriend Miami (Nineties indie movie icon Parker Posey), who more or less can't stand the sight of him.  When Max laments, "I caught myself writing go to bed and wake up in my datebook as if they were two separate events," he might as well be speaking for the whole group.
As the college year progresses, the college graduates begin to evolve somewhat, with Max, in particular, finding a spark through a relationship with feisty high school student Kate (Cara Buono).  Left behind is Grover, who continues to drift despite being the most self-actualized of the friends.   He is a likeable-but-frustrating character: why won't he either just go to Jane or get on with his life already?  The answer is actually more reasonable than it seems: possessing confidence after growing up in a world riddled with divorce and me-first behavior is easier said than done.  Baumbach clearly has compassion for such a mindset.  The director's understanding of this generation's wounded psyche is vital, as it keeps Grover's maddeningly self-inflicted plight compelling right until the film's unique climax.
Kicking and Screaming is absolutely not a movie for everyone.  As you can gather, the issues faced by the characters are slight in the grand scheme of things and not much actually happens. This said, if you are a person who can relate to others with no evident hurdles in life beyond themselves and enjoy rapid-fire, clever dialogue that mostly hits, you will appreciate Kicking and Screaming and find true meaning hidden in the inertia.   I give it two-and-a-half guys.