Elvis Aaron (Aron) Presley  (1935-1977)
The King of Rock n' Roll also had a run starring in feature films, which he often showcased many of his songs.  One of the 3 guys, Adam, is a huge Elvis fan, so much so that he named his dog Elvis and was married in Las Vegas by an Elvis impersonator.  Sadly I was unable to make the journey to Vegas for this event but I have spent my time on the Las Vegas Strip.
Elvis has a sizable filmography so I will highlight many but not all.  Elvis starred in 31 films from 1956 to 1969.  His first feature film was the 1956 smash Love Me Tender where he played Clint Reno.  Clint married his brothers ex-girlfriend while he was away fighting the Civil War which took the family a lot of getting used to.  Although there is music throughout the film the final scene is where the song Love Me Tender was most powerful.
Elvis' next film Loving You was released in 1957, Elvis played Deke Rivers a delivery boy that had a talent for playing music and is discovered by a talent agent.  Of course with all Elvis films there is a love interest or two and the film pins Deke against success or love. The video is of all the musical scenes of this film.  Elvis actually dyed his hair from brown to black to celebrate his first color film.  Another little tid bit of information is that Elvis' parents were used as extras and after his mother's passing Elvis could not watch the film because it hurt too much to see his mother on screen.
Another film and probably one of his most famous films was also released in 1957 and that was Jailhouse Rock.  Elvis played prisoner Vince Everett serving a 1 year sentence for manslaughter who is introduced to the music business by another inmate.  Vince decides to explore the music business when he is released from prison but quickly gets disillusioned by it.   Elvis refused to watch this film due to the tragic death of co-star Judy Tyler. You can actually watch this full movie on youtube for free.
From 1958 to 1962 Elvis starred in 5 more films, capping 1961 with another famous film Blue Hawaii.  Elvis played Chad Gates, an army soldier who has done his time and is happy to be back home with his friends but is being pressured by his father to work at a fruit company, Chad is reluctant and goes to work as a tour guide instead.  Highlighted in this film is the hit Can't Help Falling in Love with You.  There is a red MG Roadster in the opening scene of the film that Elvis liked so much he bought it and it now resides in Graceland.
From 1962 through 1964 Elvis starred in another 8 films, the most memorable being 1964′s Viva Las Vegas.  Elvis played Lucky Jackson, a Grand Prix racer looking for his break.  Lucky gets a little sidetracked by swimming pool manageress and this relationship on screen actually turned into a relationship off screen, reportedly Elvis and co-star Ann Margaret were almost married.  Certainly pushed the lines of sexual innuendo as you can see in the clip below.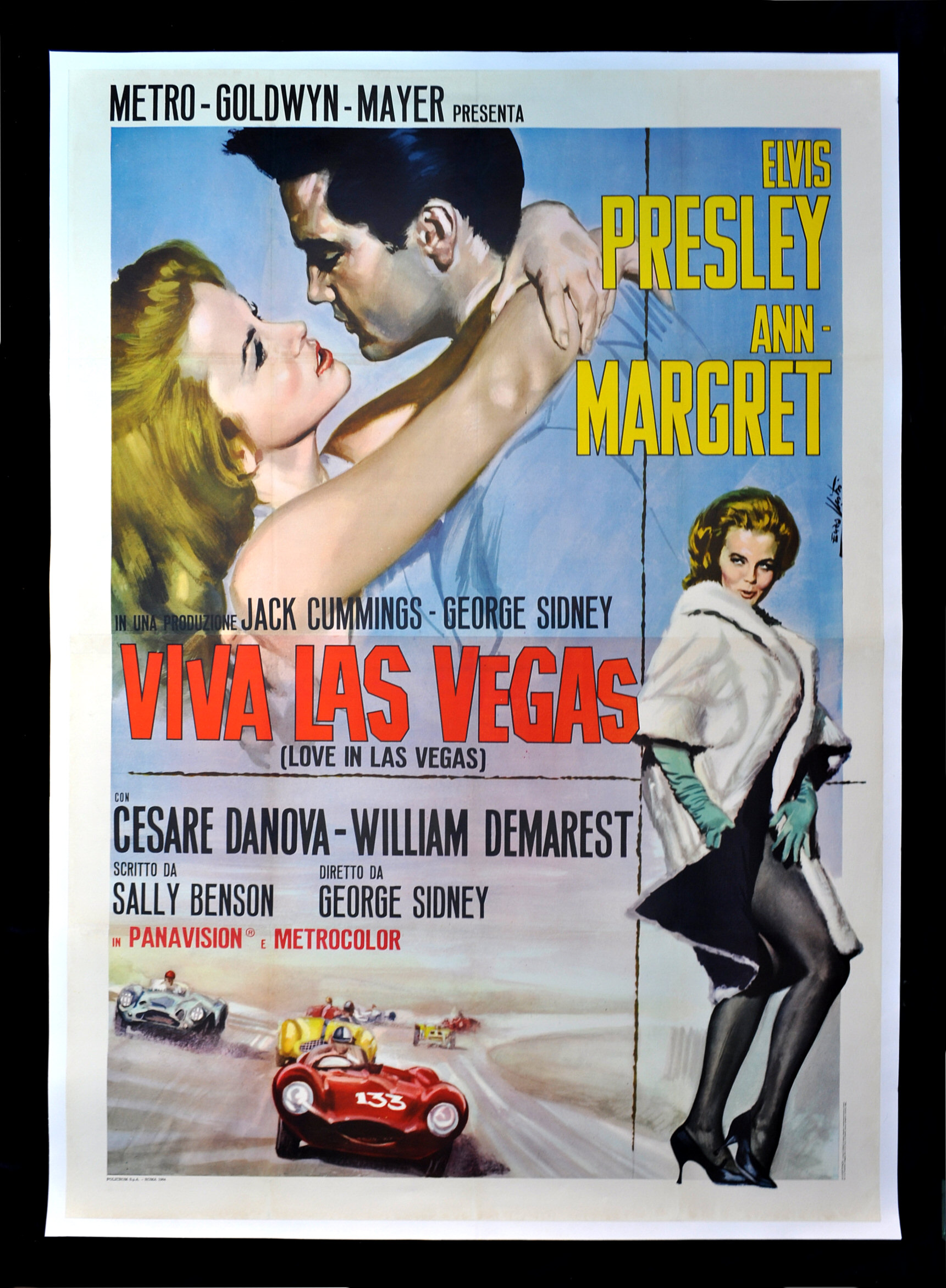 Cashing in on his popularity Elvis starred in 15 more films from 1965 to 1969: Girl Happy, Tickle Me, Harum Scarum, Frankie and Johnny, Paradise- Hawaiian Style, Spin Out, Easy Come Easy Go, Double Trouble, Clambake, Stay Away Joe,  Speedway, Live a Little Love a Little, Charro!, The Trouble with Girls, and his final feature film Change of Habit.  
Elvis Aaron Presley never won an Academy Award or any award for his work as an actor, except if you count The Golden Apple Awards, where he scored two Least Cooperative Actor Awards in 1960 and 1966 but his movies are still wildly popular.
Elvis quotes:
I get tired of playing a guy who gets into a fight, then starts singing to the guy he's just beat up.
[on Blue Hawaii] In the movie we did a song called the "Hawaiian Wedding Song". And it was so real that it took me ten years before I realized I wasn't married to the chick.
I knew by heart all the dialogue of James Dean's films; I could watch Rebel Without a Cause (1955) a hundred times over.
Only thing worse than watching a bad movie is being in one.
Elvis Trivia:
His autopsy detected ten different drugs in his bloodstream.
The book he was reading at the time of his death was "The Scientific Search for the Face of Jesus" by Frank O. Adams, (Psychical Aid Foundation, USA, 1972)
Was one of the first people in the U.S. to own a "Betamax" system VCR
Elvis did not like confrontation. He wanted to fire his manager, Tom Parker, many times. He would tell his friends "Tell Parker, he's fired." His friends would go tell him, then Parker would say "Tell Elvis to tell me personally". Elvis never did.
Was always known to be generous to a fault with family, friends and even total strangers. Anyone who admired any possession of his, from one of his many Cadillacs to any bit of bric-a-brac in his home, often found themselves the new owners of that possession.
He named his four personal favorite films as: Rebel Without a Cause (1955), A Streetcar Named Desire (1951), Dirty Harry (1971) and Bullitt(1968).
In 1975 he purchased a poor black East Memphis woman an electric wheelchair and picked her up and personally sat her in it. The woman's teenage daughter told Elvis she liked his car. He gave it to her and even gave her boyfriend a job.
Of his many numerous impersonators, his personal favorite was Andy Kaufman.
As always with Actor or Actress Spotlights here are some extra photos: