Drinking Buddies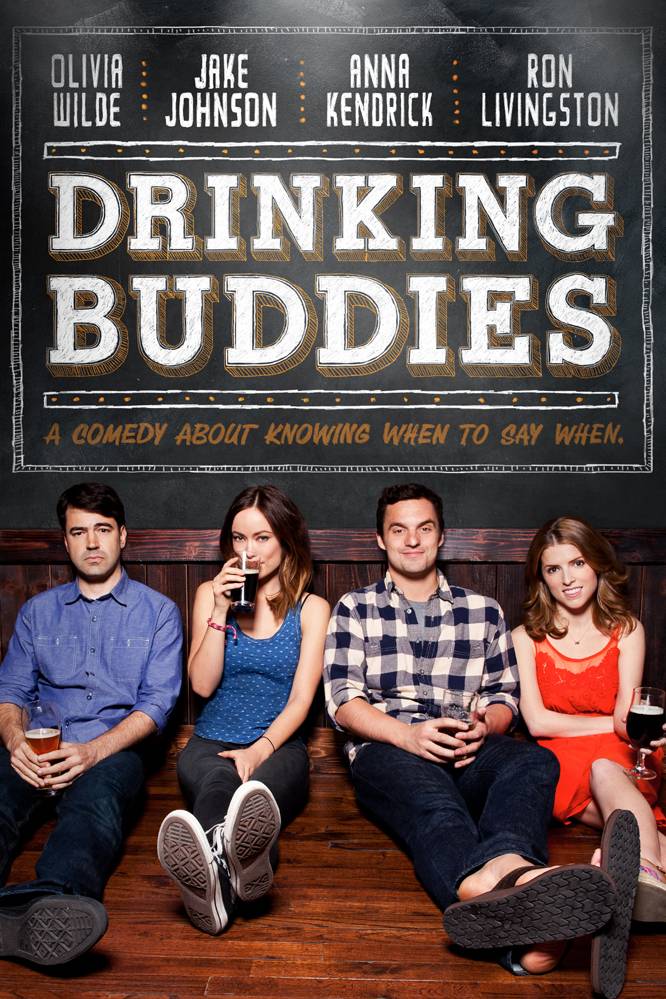 Directed by: Joe Swanberg
Written by: Joe Swanberg
Starring: Olivia Wilde,  Jake Johnson,  and Anna Kendrick
Reviewed by: Sean Daly
Kate (Olivia Wilde of The Incredible Burt Wonderstone) is the "face and voice" of the Chicago Brewery at which she works per her boss (Jason Sudekis, formerly of Saturday Night Live).  When she's not schmoozing with customers, Kate is just one of the guys with her all male, blue collar coworkers, most notably Luke (Jake Johnson of television's New Girl), a brewer with whom she regularly eats lunch. The two friends suck down beers and engage in horseplay primarily seeming to involve food.  They are completely at ease around one another but are they couple material?  This is the main issue at-hand in Drinking Buddies, the latest Mumblecore effort by prolific writer/director Joe Swanberg (ten movies and counting this decade).
Similar to many films of the genre, Drinking Buddies' protagonists may be with the wrong person.  For Kate, this means Chris (Ron Livingston of Office Space), an uptight, older music producer.  Chris seems a nice enough guy but we know the two aren't right for another when he chooses wine over beer.  He's subtly dissatisfied with Kate, giving her John Updike's Rabbit, Run for a reading assignment disguised as a gift and making her use a coaster for her cup.  More impressive to Chris is Jill (Anna Kendrick, for whom I will not list a credit for as payback for the Cups song), a pretty special education teacher he meets at a brewery event—and Luke's live-in girlfriend.
The tension between the two couples is given a chance to play out during a weekend getaway to a lake house.  For Kate and Luke, this means more fooling around but not in a sexually charged-sense.  Not even when Kate skinny dips in front of him does it seem to stir much beyond an uncomfortable expression on Luke's face.  Naturally, more food fighting ensues.  It feels like friendship all the way for these two— a somewhat irritating one at that—until opportunity to get together arises after returning home.
Suddenly, the film picks up an edge, delivering the potential of romance between the two protagonists it probably lured in a lot of viewers with. Kate and Luke must now add strong feelings of jealousy to their once-breezy dynamic.   Will it ruin their friendship? Or was friendship all they ever had?  Swanberg does a nice job giving the film some unpredictability along with the indie conviction to tell the story he wants to rather than worrying about pleasing his audience.   Drinking Buddies is the writer/director's highest profile film to date, as evidenced by his use of actual known actors.  He's clearly a filmmaker on the way up.  It will be interesting to see if he maintains his conviction once he graduates from Mumblecore to mainstream rom-coms.   The odds, unfortunately, don't bode well in the test audience abyss that is the studio system.
Also on the rise is Wilde, who continues to shine in every project she graces.  It seems strange to say but she overcomes her perfect ten looks in this movie to believably play an everywoman who hangs out with the dudes at a brewery.  If Drinking Buddies proves she can carry a movie meant for art houses, hopefully her turn in Ron Howard's much-anticipated Rush brings her the more high profile roles she deserves.
Drinking Buddies is not packed with plot twists or huge laughs but it works in taking what could have been highly predictable fluff and injecting it with some surprises and weight.  Much of the dialogue is obviously improvised, leading to some hit or miss moments, particularly  early in the film, but the actors all show talent in pulling it together by the end.  I give Drinking Buddies a rating of two guys.
-Sean Daly