Written by: Stacie Passon
Directed by: Stacie Passon
Starring: Robin Weigert; Maggie Siff; Johnathan Tchaikovsky
Reviewed by: Sean Daly
Concussion, the remarkable debut by writer-director Stacie Passon, is the rare film with both the courage to ask difficult questions and the conviction to infer answers that viewers are likely to find uncomfortable.  The movie stars Robin Weigert as Abby, a lesbian mother of two who undergoes the drastic metamorphosis of becoming a high-priced escort for other women after sustaining a head injury.  But is the concussion the cause of her behavior or just the spark she needs to shake up her drab suburban existence?  Unlike the Lifetime Movie of the Week drivel this plot admittedly resembles on its surface, Concussion wastes no time with lame medical excuses, allowing the audience to determine her motivation themselves.
The film begins with Abby and a flock of other fit thirty-and forty-something women in spin class. The symbolism is apparent: these are people in a big hurry to get absolutely nowhere.  In the very next scene, Abby is bleeding profusely from the head, courtesy of an errant baseball thrown by her young son.  After viciously chastising the apologetic boy, she repeats the words "I don't want this" over and over during her ride to the hospital.  Is she talking about the pain of the injury or her very existence as homemaker in a long term partnership with her wife Kate (Julie Fain Lawrence), a successful attorney and the couple's primary breadwinner?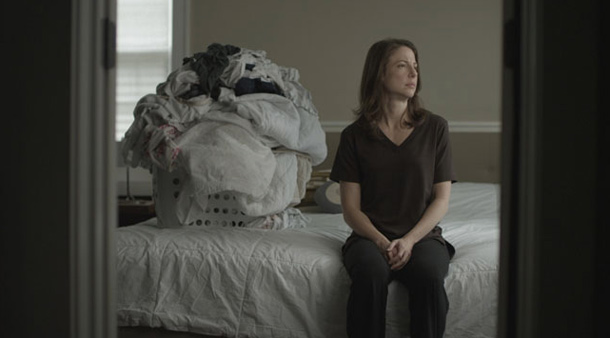 Soon enough, Abby hires a scuzzy, drug-addicted hooker to service her.  Presumably, this is the first time she's done such a thing (Passon only implies the backstory for pre-concussion Abby) and the experience is not a pleasant one.  She confides as much to Justin (Johnathan Tchaikovsky), the attractive younger man she is renovating a commercial loft with.  Justin wonders if she slept with a guy and—unlike in the similarly themed The Kids Are All Right—the director makes it crystal clear through Abby's emphatic negative response that her story is about a lesbian versus Hollywood's frequent presentation of a lesbian who is wishy-washy about her sexual orientation.  But Justin, as luck would have it, dates a madam of sorts, better known as The Girl (Emily Kinney, nearly stealing an excellent movie with just a few scenes). He quickly sets Abby up with Gretchen (Kate Rogal), an escort who will be "better" in his opinion.
Justin turns out to be correct, as the beautiful Gretchen not only gives Abby the release she craves but also recommends the 42-year-old Mom become an escort in her own right.  An intrigued Abby discusses the matter with Justin, who will act as the middleman between her and The Girl.  The two friends aren't on the same page from the start when Abby decides her hooker name will be Eleanor (to which Justin hilariously replies "my dick just shrank").  Abby also throws him off by insisting on meeting her clients for coffee first, a gesture showing that turning tricks has a deeper meaning for her than money and sexual thrills.
Abby uses the loft to sleep with her clientele, keeping her away from home and shirking familial duty more and more. Her absence adds frost to the obvious cold front existing between her and Kate.  When Kate falls asleep during the most intimate of moments with Abby, the viewer understands Abby's need to feel desired. The desire is not just sexual, though, as Abby also achieves a certain amount of emotional intimacy with her clients. She provides weight loss advice to an obese college student (Daria Feneis) by comically giving her a book authored by Gandhi and lends a sympathetic ear to a middle-aged divorcee (Laila Robins) who convincingly makes the case her ex-husband was too nice.  While the scenes outside of the loft come fast and furious in Concussion, Passon slows everything down when Abby is there.  This is obviously a conscious choice on the part of the filmmaker, as her main character can only stop to enjoy her life when she is outside of it.  Complications potentially ensue when a new prospective client turns out to be Sam (Maggie Siff), a fellow spin class and PTA member who is married to a man.  Will this lead to Kate catching her?  Probably not, Abby painfully opines, as she believes her wife doesn't care enough to see what should be obvious.
The film's final third ties up loose ends…well, some of them.  Others are left for the viewer to interpret, including Abby's ultimate destination.  This open approach on the part of Passon is refreshing, as are the way men are portrayed almost universally as sympathetic versus villains or morons.  After all, the strong, intelligent, successful female characters in Concussion don't need a man to screw their lives up when they are more than capable of doing it on their own. The filmmaker also manages to expose an unnerving truth any longtime couple will recognize: civility and deference toward one's partner can have the unintended effect of killing a relationship's spirit and passion because it often communicates apathy rather than truth.
Concussion, however, is truth.  If this small film gets a fraction of the audience it deserves, expect awards nominations for Weigert, who appears in virtually every scene and never fails to command the screen.  The rest of the cast of almost unknowns plucked from an all-star team of Hey, Isn't That So-and-So From [Insert Cable Television Series] are also outstanding.  Between the storytelling, performances, and bold subject matter, I give Concussion two-and-a-half guys and highly recommend checking it out on Video On Demand or your local art house while you still have the chance.
Warning Trailer Contains Nudity